Some albums listed below are available for purchase where indicated. You can also review  everything available from iTunes. Some hard-copy CDs are available from Amazon.
Charles' 2015 release "The Journey"
"Expressive, but not over-emotive; passionate, but not desultory, Charles McPherson knows enough about the rules to break them with finesse — and enough about music to make it all brand new, no matter the depth of his musical roots…"  –Nick Deriso. Click here for the Something Else! review of The Journey.
Read more "The Journey" Reviews
Listen to "The Journey" on Apple Music.
 1975's 'Beautiful' and 'Live in Tokyo' Re-issue CD's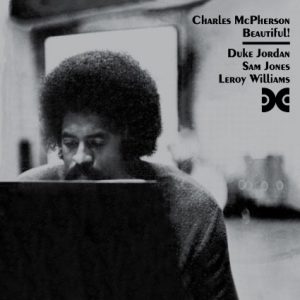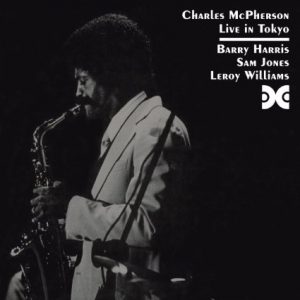 "…these albums are so firmly rooted in tradition—old tunes, old-school styles of performance—gives them a timeless quality. Beautiful! and Live in Tokyo aren't history lessons; they're just great collections of music."—Phil Freeman (Read the whole review here.)
Pre-order Live in Tokyo from Amazon
---
 Selected Albums
---
*Note: International fans, you can purchase the "Love Walked In" album in Japan at Tower or HMV.
---
List of Complete Leader Recordings
Check out the complete recordings of Charles McPherson as leader (generated Sunday October 2nd, 2011 on jazzdiscography.com).
---
 Guest Appearances
| Artist | Recording | McPherson plays... |
| --- | --- | --- |
| Pat Bowie | Feelin' Good! (1965) | Sax (Alto) |
| Jeannie and Jimmy Cheatham | Sweet Baby Blues (1984) | Sax (Alto) |
| Eric Dolphy | Candid Dolphy (1960) | Sax (Alto) |
| Kenny Drew | For Sure (1978) | Sax (Alto) |
| Various Artists | Eastwood After Hours: Live at... (1997) | Sax (Alto), Sax (Tenor) |
| Lionel Hampton | Fiftieth Anniversary Concert Live... (1978) | Sax (Alto) |
| Lionel Hampton | All-Star Band at Newport (1978) | Sax (Alto) |
| Lionel Hampton | Live--50th Anniversary Concert (1978) | Sax (Alto) |
| Lionel Hampton | Live at Carnegie Hall (1999) | Sax (Alto) |
| Barry Harris | Newer Than New (1961) | Sax (Alto) |
| Barry Harris | Bull's Eye (1968) | Sax (Alto), Sax (Tenor) |
| Barry Harris | Tokyo: 1976 (1999) | Sax (Alto) |
| Highstream | Best of Mainstream Jazz | |
| Billie Holiday | Billie Holiday Revisited | Sax (Alto), Vocals |
| Eddie Jefferson | Come Along with Me (1969) | Sax (Alto) |
| Ellen Johnson | Too Good to Title (1993) | Sax (Alto) |
| Bobby Jones | Arrival of Bobby Jones (1972) | Sax (Alto) |
| Sam Jones | Cello Again (1976) | Sax (Alto) |
| Kevin Mahogany | Pussy Cat Dues: The Music of... (2000) | Sax (Alto), Soloist |
| Charles Mingus | Thirteen Pictures: The Charles... (1952) | Sax (Alto) |
| Charles Mingus | Pithecanthropus Erectus [Atlantic] (1956) | Sax (Alto) |
| Charles Mingus | Complete Candid Recordings (1960) | Sax (Alto) |
| Charles Mingus | Mingus! (1960) | Sax (Alto) |
| Charles Mingus | Mysterious Blues (1960) | Sax (Alto) |
| Charles Mingus | In a Soulful Mood (1960) | Sax (Alto) |
| Charles Mingus | Live at Birdland (1962) (1962) | Sax (Alto), Sax (Soprano) |
| Charles Mingus | Complete Town Hall Concert (1962) | Sax (Alto) |
| Charles Mingus | Mingus at Monterey (1964) | Sax (Alto) |
| Charles Mingus | Portrait (1964) | Sax (Alto) |
| Charles Mingus | My Favorite Quintet (1965) | Sax (Tenor) |
| Charles Mingus | Charles Mingus [CM] (1965) | Sax (Alto), Sax (Tenor) |
| Charles Mingus | Music Written for Monterey, 1965 (1965) | Saxophone |
| Charles Mingus | Reincarnation of a Lovebird (1970) | Sax (Alto) |
| Charles Mingus | Charles Mingus in Paris (1970) | Sax (Alto) |
| Charles Mingus | Let My Children Hear Music (1971) | Sax (Alto) |
| Charles Mingus | With Orchestra (1971) | Sax (Alto) |
| Charles Mingus | Live at Chateauvallon (1972) | Sax (Alto) |
| Charles Mingus | Charles Mingus and Friends in... (1972) | Sax (Alto), Woodwind |
| Charles Mingus | Mingus at Carnegie Hall (1974) | Sax (Alto) |
| Charles Mingus | Something Like a Bird (1978) | Sax (Alto) |
| Charles Mingus | Live at Carnegie Hall (1996) | Sax (Alto) |
| Don Patterson | Boppin' and Burnin' (1968) | Sax (Alto) |
| Don Patterson | Funk You (1968) | Sax (Alto), Sax (Tenor) |
| Michael Petri | Noel! Noel! Noel! | Arranger |
| Quink Vocal Quintet | Carols Around the World (1989) | Arranger |
| Red Rodney | Bird Lives! (1973) | Sax (Alto) |
| Red Rodney | Hey, Chood (1998) | Sax (Alto) |
| Charles Tolliver | Impact (1975) | Sax (Alto) |
| Larry Vuckovich | City Sounds, Village Voices (1981) | Sax (Alto) |
| Original Soundtrack | Bird | Sax (Alto) |
| Various Artists | Jazz Giants Plays Horace Silver (1954) | Sax (Alto) |
| Various Artists | Monterey Jazz Festival: 40... (1958) | Sax (Alto) |
| Various Artists | Jazz at Lincoln Center Presents:... (1991) | Sax (Alto) |
| Various Artists | Jazz Life (1992) | Sax (Alto) |
| Various Artists | Jazz Hour Special (1996) | Sax (Alto) |
| Various Artists | Jazz Giants Plays Frank Loesser (1997) | Sax (Alto) |
| Various Artists | Four Decades of Jazz a Musical... | Sax (Alto) |
| Various Artists | Great Jazz Artists Play... | Sax (Alto) |
| Various Artists | 1999 Ford Montreaux Detroit Jazz... | Sax (Alto) |