JAZZ DANCE SUITES
Official Press Release
As an architect of this artform who has released inventive records since 1964, the genius of Charles McPherson has been chronicled by a vast library of recordings that span the past six decades. Now 80 years old, McPherson's Jazz Dance Suites captures his groundbreaking collaboration with the San Diego Ballet, an association which began in 2015. MORE
Looking for the Press Kit? Find it here.
Video Interviews (select)
Charles McPherson interviewed by Pablo Held – Saxophonist Charles McPherson is a living legend, a musician of the highest order. I've learned a lot by listening to him play (and speak!) over the years. When I got the chance to interview him as part of the Mingus100 Festival at @stadtgartenkoeln, I was delighted!
A Conversation with Charles McPherson –  Milwaukee Jazz Institute's most recent Jazz Circle event was a conversation with saxophone legend Charles McPherson. The discussion, hosted by MJI artistic director Mark Davis, delved into McPherson's amazing career. You'll hear incredible stories about meeting and hearing Charlie Parker, learning from Barry Harris in Detroit, and working with Charles Mingus. You'll also learn about the inspiration for his new album, Jazz Dance Suites. (2020)
NPR music – Bird & Beyond: Celebrating Charlie Parker at 100 (A Jazz Congress 2020 Session) 
Jazz Festival L'Estartit  – TV3's report of the two concerts that last night inaugurated the 6th #JazzFestivalEstartit with Charles McPherson and Joshua Redman, Ron Miles Music, Scott Colley, and Dave King. (2019)
Nancy Barber – "Charles talks about being lucky to grow up in Detroit" – A clip from an upcoming documentary about Baker's Keyboard Lounge and the history of Jazz in Detroit, directed by Nancy Barber. (2019)
In Person, with Jazz Times – "Charles McPherson on The Jazz Cruise 2016" (2016)
Brian Pace, The Pace Report – "Let The Doctor Play His Horn, Man!" (2015)

Joffe Woodwinds – Interview with Dr. Edward Joffe (2015)
KSDSFM/Jazz 88.3 – Interview with Mark DeBoskey (2014)
Larry Himmel, News 8 – "The Hippest Man in San Diego" (1993)
Audio Interviews
WUTO 91.9fm Knoxville
McPherson Talks Bird, Mingus, and McPherson
Todd Streed, March, 2023
WZUM, Pittsburgh Jazz Channel

An extended visit with Charles McPherson, talking about his early years in Detroit, 
plus other early influences.
Scott Hanley, March 10, 2022
90.7FM Berkeley
DJ Nickel Hardaway sits down with Charles and

discusses his career and most recent release, JAZZ DANCE SUITES
Nickel Hardaway, November, 2021 
A LONG WAY FROM THE BLOCK podcast –

A Conversation with Be Bop legend Charles McPherson
Anthony Thomas, September 19, 2021
KSDS FM 88.3 Ken Borgers sits down with Charles to discuss the influence of Charlie Parker on "Bird's" 101 birthday. Many musical examples included. August 2021
"Cool Toddcast" Grammy Award-winning bassist Todd Coolman sits down with the McPherson family in a conversation about a wonderful collaboration between jazz music and dance. PODCAST Episode 7 JAZZ DANCE SUITES May 2021
Influential: McPherson's Playlist – KPBS MIdday Edition Now in his 80s, the San Diego jazz saxophonist is still performing and recently released new work. Get to know the works that shaped him and continue to drive his music.
Brooke Ruth & Julia Dixon Evans on KPBS MIdday Edition, February 2021
90.5 WICN Public Radio PODCAST with Tom Lucci – Tom Lucci spoke with the legendary Charles McPherson recently. Charles has been a leading apostle of the alto saxophone since 1960! Clint Eastwood called him to evoke Charlie Parker's sound in his acclaimed biopic movie "Bird," and Jazz at Lincoln Center recently honored him on his 80th birthday. His 28th album as a leader, "Jazz Dance Suites," is very special. Find out why, plus hear a lot of jazz history and wisdom from one of the greats in this in-depth conversation.
"All That's Jazz" PODCAST with Allen Scott -"In this episode, we talk with both Charles, Camille, and Lynn – Charles' wife and Camille's mother who is not only a concert pianist and educator but also manager, promoter, and agent for her husband."  October 2020
KSDS Inside Art with David Drexler – Charles and Grammy-award winning John Beasley sit down with Dave Drexler and talk about Charles' upcoming 82nd Birthday Celebration Concert, a joint project recorded during the pandemic, and much more.
July, 2021
KSDS Inside Art with David Drexler – Charles & Lynn McPherson sit down with Dave and talk about Jazz Dance Suites, plus much more. October, 2020
WUSF All Night Jazz with Mike Cornette – New audio interview!
 KSDS Inside Art with David Drexler – Radio interview with Charles McPherson about his upcoming concert Charles McPherson Plays Charlie "Bird" Parker With Strings. 
The Nikhil Hogan Show – Charles talkes about his 80th birthday and a special concert: "McCoy Tyner and Charles McPherson at 80" at Jazz at Lincoln Center with Wynton Marsalis. (August 7, 2019)

KPBS.org – Andrew Bracken interviews Charles."Discovering Bird" When Charles McPherson first saw "Bird" Charlie Parker play he said, "I want to be that." Now, he's one of the most renowned saxophonists in San Diego. (August 1, 2018)
jazz88.org – 'Inside Art' with Dave Drexler – Javier Velasco and Charles McPherson chat with Dave about San Diego Ballet's 'A Night of Jazz & Dance' (May 8, 2018)
The Nikhil Hogan Show – Interview with Legendary Bebop Jazz Master Saxophonist & Composer | Dr. Charles McPherson (Published on Apr 30, 2018)
Jazz Bastard Podcast 132 – Charles McPherson Interviewed by Patrick Burnette – Charles discusses an early encounter with Charlie Parker, lessons from Barry Harris, a wild first night employed by Charles Mingus, what bebop means to him, and several other topics. (January 10, 2018)
90.9 WDCB Public Radio – (November 7, 2014) Chicago's home for Jazz with Barry Winograd
Arizona Public Media – Saxophonist Charles McPherson
The Hamilton College Jazz Archive – Audio Interview
Indiana Public Media – Charles McPherson's Post-Bird Bop
KPBS Radio – Alto Saxophonist Charles McPherson Highlights a Career-Spanning 50 Years
WBEZ's Morning Shift – Celebrating Charlie Parker's foray into classical music
WBEZ Chicago – Interview with Barry Winograd (June 10, 1993)
Reviews, Articles and Published Interviews (select) 
KSDS's Jazz Live – Divinely Inspired Music and Humanity-Inspired Jokes Reign in Return of KSDS's Jazz Live
Matt Silver, August 11th, 2023
chicagoobservations.com – Show and Tell
"Talent hits a target no one else can hit. Genius hits a target no one else can see."
— Arthur Schopenhauer
Jack B. Siegel's Photographs and Commentary, August 15th, 2023
All AboutJazz – Charles McPherson Quintet At Jazz Alley


To be fortunate enough to see an artist of the caliber of alto saxophonist/master composer Charles McPherson perform live is a blessing, to be sure.
Paul Rauch, June 21, 2023
Berkeleyside – "Charles McPherson, among the top alto saxophonist in the world, is performing Friday and Saturday……."
Andrew Gilbert, February 14, 2023
La Scena Musicale – Charles McPherson – The Artistry of Linear Logic
Marc Chenard, September 27, 2022
MUSICA JAZZ – CHARLES & CAMILLE MC PHERSON  A new path for a saxophone master,

Traveling with his family: his daughter Camille, a very talented classical dancer, and his wife Lynn, a classical pianist. Here's what he told us.
Samantha Mattiuzzi, Editor, July 17, 2022
JazzTimes – Charles McPherson Remembers Barry Harris
The alto saxophonist pays tribute to his late mentor and friend (12/15/1929 – 12/8/2021)
Charles McPherson, February 18, 2022
The Joplin Globe – Saxophonist slates Joplin homecoming, decades in the making
Kevin McClintock, February 4, 2022
San Diego Union Tribune – San Diego Ballet's 'Bird/LAND' a family affair for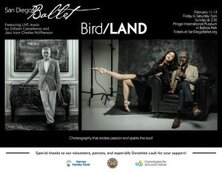 sax great Charles McPherson and dancer daughter Camille
George Varga, February 4, 2022
The Philadelphia Inquirer – Jazz Orchestra of Philadelphia celebrates the holiday season and Charlie Parker's 100th at Annenberg Center
Shaun Brady, December 20, 2021
Arizona Republic – The Nash celebrates 9 years with the music of 'one of the giants of giants': Charlie Parker
Ed Masley, November 2, 2021
San Diego Union-Tribune – Charles McPherson, jazz sax great coming off a banner year, will play 82nd birthday concert.
George Varga, July 22, 2021
Stereogum.com – The Month In Jazz – Ugly Beauty
Phil Freeman, May 2012
VinylJunkies.com – 12 Questions with Charles McPherson
Andrew Daly,
Jazzthing – Composer in Residence (German)

Rolf Thomas, November 2020
San Diego Troubadour – Charles McPherson: Weathering the Pandemic with New Album and Ballet Project
Jim Trageser, Sept 2020
bebop spoken here – Q & A w. Charles McPherson
Russell, July 27, 2020
JersyJazz – FROM BEBOP TO BALLET Alto Saxophonist Charles McPherson: A True Giant of Jazz
Sanford Josephson, June 2020
JAZZIZ – BIRD LOVERS

Ted Panken, Spring 2020 
IDEAL GRANADA – Charles McPherson, Bop exhibition at the Festival
November 8, 2019
boemradio.com – Charles McPherson Quartet @ Half Note – Review
Kostis Gogios, November 6, 2019
Chusmi10 – Universijazz 2019, Charles McPherson Quartet 80th Birthday Tour
Chusmi, July 30th, 2019
Musica Jazz – Charles McPherson Quartet – 51st International Jazz Festival of La Spezia 
Giancarlo Spezia, July 30, 2019 
THE NEW YORK CITY JAZZ RECORD – Jazz at Lincoln Center with Wynton
Marsalis, McCoy Tyner, and Charles McPherson at Rose Hall (Apr. 5th).
MAY 5, 2019
DOWNBEAT – McCoy Tyner, Charles McPherson Feted at Jazz at Lincoln Center Performance
Suzanne Lorge, April 12, 2019
The Mercury News – San Jose Jazz Winter Fest ready to groove with sax legend Charles McPherson
Andrew Gilbert, February 13, 2019
London Jazz News – INTERVIEW: Stephen Keogh talks to Charles McPherson who will be 80 this year on January 03, 2019
Musica Jazz (Click to see story & photos) – Charles McPherson Quartet at the Zaragoza Jazz Festival (translation from spanish)
Giancarlo Spezia – Novemember 28, 2018
Administracion Digital (Spain) – Charles McPherson
Leopoldo Simó, November 15, 2018
SFCV (San Francisco Classical Voice) – With Charles McPherson, Age Never Sounded So Good
Andrew Gilbert, July 31, 2018
The New Mexican – The right place at the right time: The jazz education of Charles McPherson
Richard Sheinin, Jul 20, 2018
Vandoren.com – An Interview With Charles McPherson Part 1
Interview conducted by Michael Fenoglio and Rebecca Scholldorf
San Diego Reader – Why the great composers collaborated with ballet
Robert Bush, April 19, 2018
Dothegig.com – Charles McPherson Quintet at Dizzy's NYC
Nathan Bellott, March 18th, 2018
New York Times – Jazz Concerts to Check Out in NYC (Dizzy's concert)
Giovanni Russonello, March 1st, 2018
Allaboutjazz.com – Charles McPherson: The Man And His Muse
By Joan Gannij, March 15, 2018

Jazzpodium – Germany's oldest jazz magazine (since 1952) "Keeper of Bird's Flame" Link to PDF in German.
Peter Billaudelle, March 2018 Issue
San Diego Union-Tribune – 5 Gifts We Were Thankful For This Year
George Vargas, September 2017
SanDiegoStory.com – Synergy is Sweet, Indeed, as San Diego Ballet Pirouettes to Live Jazz
Janice Steinberg, May 25, 2017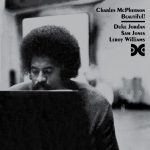 THE NEW YORK CITY JAZZ RECORD REVIEW –Beautiful! Charles McPherson (Xanadu-Elemental Music) 
Review of the re-release
Duck Baker, 20 March 2017
London Jazz News – REVIEW: Charles McPherson Quartet at Pizza Express
Charlie Anderson, 17th February 2017
EL MUNDO – Charles McPherson, la última orilla del bebop
Pablo Sanz, Madrid 20/02/2017
London Jazz News – PREVIEW: Charles McPherson in London (Pizza Express Dean Street 17/18 Feb, 2017)
SDSU News Center – "Renowned Saxophonist Collaborates with SDSU Jazz Ensemble"
Graciella Regua, October 2016
The News-Gazette – "Treat for Jazz Fans"
Melissa Merli, February 2016
'Do The M@th' blog –  Ethan Iverson of  The Bad Plus – The Charles McPherson Interview (2016)
Crystal Schelle, Herald Mail Media – "Two jazz icons to receive Don Redman Heritage Award"
Jazz Culture – Charles McPherson October 2015 New York Jazz Culture review
All About Jazz – Charles McPherson Musician Profile
All About Jazz – Charles McPherson: Keeping the Faith
All About Jazz – Charles McPherson: Passionate Bopper
Chicago Jazz Magazine 2014 – Charles McPherson talks Charlie Parker (November 3, 2014)
Chicago Tribune – Celebrating Charlie Parker with a wide-ranging festival (November 6, 2014)
Chicago Tribune – Charles McPherson tips his hat to Charlie Parker
Chicago Tribune – Review: Celebrating Charlie Parker with panache (November 8, 2014)
Chicago Tribune – Two masters celebrate Charlie Parker
Chicago Reader – Charles McPherson
Clarion Jazz – Charles McPherson With Strings
Cultura – Jazz de dos continentes (April 1988)
Dansr – Detroit Roots, Clint Eastwood, and Mingus
Downbeat – McPherson Talks Mingus
Evanston Review 2014 – Saxophonist recreates Charlie Parker's music for jazz fest (November 5, 2014)
Global Music Foundation – Charles McPherson Quartet @ Pizza Express (April 20, 2015)
I Dig Jazz – At Art X Detroit
Jazz.com – Charles McPherson: Nostalgia in Times Square
Jazz House – Stewart on McPherson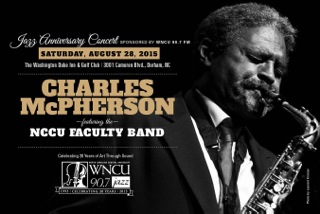 Jazziz – Beboppin' Right Along – flip ahead to page 35 for the article about Charles!
The Jazz Link – Handsome Soul: A Portrayal of Charles McPherson (May 1990)
Jazzman – At Home With Charles McPherson (February 2008)
Jazz Police – Charles McPherson / Tom Harrell Quintet Bebop Is The Future
Jazz Review – McPherson Stretches Parker  (1995)
JazzTimes – Charles McPherson: Ornithology With Strings, online version (May 2005)
JazzTimes – Charles McPherson: Ornithology With Strings, print version (May 2005)
JET Magazine – Hair Splitter of the Week (May 1953)
JET Magazine – Press Party in West Hollywood (Jan 1995)
Joplin Globe – When Race Didn't Matter (2003)
Joplin Globe – Charles McPherson Feature (February 17, 2003)
Joplin Historical Guide – McPherson's Childhood Home
La Jolla Village News – Jazz great McPherson leads quintet at Neurosciences (October 16, 1997)
London Evening Standard – Charles McPherson, Pizza Express Jazz Club
London Jazz News – Report: Charles McPherson and "balance in everything"
London Jazz News – Review: Charles McPherson (February 18, 2010)
Los Angeles Herald Dispatch – McPherson's First Flight Out Has Star-Studded Landing (December 22, 1994)
Los Angeles Times – Many, many articles on the LA Times website
Majazzine – Concierto Charles McPherson Quartet
Majazzine – Entrevistaa Charles McPherson
Mark Weber – Charles McPherson coastal obelisk
Milwaukee Mag – Charles McPherson and Brian Lynch
The News Gazette – Treat for Jazz Fans
The New York Daily News – Imaginative, Audacious And Overlooked
New York Post – McPherson soars on alto sax (July 20, 1984)
The New York Times – Afternoon Celebration of Charlie Parker's Jazz, online version (1996)
The New York Times – Afternoon Celebration of Charlie Parker's Jazz, print version (1996)
The New York Times – Jazz: Charles McPherson (July 19, 1984)
San Diego Magazine – Jazz Lives (August 2004)
San Diego Magazine – McPherson Sizzles (March 1984)
San Diego Reader – SAX (April 20, 2006)
San Diego Reader – Quintet Burns Bright at Dizzy's
San Diego Reader – Shape & Sound: Welcome to Sax Diego
San Diego Reader – Sweet Suite (January 21, 2015)
San Diego Union-Tribune – Veteran Sax Player Finally Gains Fame in U.S. (August 19, 1994)
San Diego Union-Tribune – McPherson in tune as jazzman, dad (December 21, 1995)
San Diego Union-Tribune – McPherson pairs with Harrell for rare San Diego gig (October 16, 1997)
San Diego Union-Tribune – Promo for 'Sweet Synergy Suite' (February 1, 2015)
San Diego Union-Tribune – McPhersons team up for dance 'Suite' (February 4, 2015)
San Diego Union-Tribune – Sweet Family Reunion (February 5 , 2015)
Saxophone Journal – Charles McPherson (Spring 1988)
Something Else! – Charles McPherson, "The Journey" from The Journey (2015) (December 2014)
Stanford Jazz – Barry Harris / Charles McPherson Quartet
Vancouver Jazz – Charles McPherson interviewed by Guy MacPherson (June 2004)
Village Voice – Bebop Flambe (July 1984)
Western Jazz Tour 1998 – The Charles McPherson Quartet
Books  (select)
JAZZ: Photographs of the Masters
Performance Programs (select)
Blue Bird Reunion – (1994)
17th Annual Saxophone Symposium – (January 1994)
Carnegie Hall – (October 1999)
Lincoln Center – The Rites of Rhythm and Tune (1991-1992)
Lincoln Center – As of Now (October 1998)
Playboy Jazz Festival – (June 1995)
Event Posters (select)
Dizzy's San Diego/Sweet Synergy Suite – February 8, 2014
JazzJam – April 7, 2013
Jazz Standard NYC – July 2014
Sweet Synergy Suite – February 2015