Charles McPherson offers clinics, workshops, and even teaches privately both in San Diego and when he tours. To book time with Charles, check out the Booking page.

Testimonials
Hartt College

Thank you for visiting with our students and providing a clinic/masterclass on April 13, 2017. Everyone is still buzzing from your time here! The personal perspectives you shared along with your first hand accounts of interactions and your performances with countless Jazz artists is the narrative that gives students a direct reference point. In addition, your advice and wisdom to the student artists who performed for you was greatly appreciated by all who attended. Knowing you for over 30 years as I have and bearing witness to your passion and interest in the continuum of Jazz and the "Jazz aesthetic", it has been an honor to know you as saxophonist, musician and person. The Jackie McLean Institute of Jazz Studies at the University of Hartford looks forward to your return for more inspiring moments. Lastly, your continued mastery of the alto
saxophone continues to amaze legions of musicians and fans of this American art form know as Jazz and you are a National Endowment of the Arts Jazz artist yet to be recognized!
Sincerely,
Javon Jackson
Professor, Director of Jazz Studies
Jackie McLean Institute of Jazz
The Hartt School
University of Hartford
---
Endless Inspiration for the Younger Generation

To my friends and family who couldn't make it to a very special day: March 3rd 2017, the best day of my life yet, here are the last two recordings of my junior recital featuring the music of the great Charles McPherson, my hero and mentor on the alto saxophone. The band had the honor of sharing the
stage with Charles and Chuck McPherson on the last number, "Bud Like". All the tunes were written and arranged by Mr. McPherson. We hope you'll enjoy.
Thank you, Mr. McPherson, for bringing endless inspiration to the younger generation. Thank you Purchase College for allowing Mr. McPherson to share his incredible wisdom and honesty. The reactions from the young students was touching to witness. To other schools across the world: you couldn't ask for any more. Thank you Mr. McPherson!
---
Temple University / Boyer College of Music and Dance, April, 2017
Charles McPherson was simply amazing in his masterclass and performance with my student ensemble. It was so refreshing for the students and faculty to hear his experience and expertise. He was every thing and more than I had hoped for. He was selfless, honest and giving – exactly the message we try to express to our young students.
Charles did a fantastic job at the clinic, and also played his ass off on the gig. A huge thanks for playing the arrangements of my students! They loved every minute and learned so much. Charles, you will always be my alto hero.
Dick Oatts
Professor and Artistic Director
Jazz Studies/Jazz Saxophone

Charles is an amazing human being as well as an incredible musician.
Every statement, story and lesson was from the heart with intellect and passion. The students were nurtured in every way possible.
The concert was filled with so much beauty and joy….the students were touched by Charles' eloquent and sophisticated playing and Charles seemed elated by the heart felt arrangements done by the students!
What an incredible blessing Charles McPherson is!!
Terell Stafford
Jazz Studies Director / Temple University
---
Mr. McPherson's clinic was inspiring and informative
"The students were dazzled (as were we all) by Mr. McPherson's mastery of the instrument. What was even more impressive was his ability to play in or outside of the chord progressions, or in or out of strict time at will. These were approaches the they have not been regularly exposed to, and it gave them something to think about.
What I appreciated about Mr. McPherson's
workshop was his explanations of how to approach the study of Jazz. The students NEVER hear terms like "musical honesty" or "sincerity" or "the melodic ear" when most clinicians speak. It's usually just chords, scales, and practice. This was intriguing to the students and made them at least realize that there is an additional aspect to the study of music.
I could go on, but for the sake of brevity, let me end by saying that Mr. McPherson's clinic was inspiring and informative for all who attended; faculty as well as students."
Robert Trowers
Music Department, Jazz Studies
North Carolina Central University
---
I wanted to take a moment to personally express my appreciation and gratitude for the time you, Charles, spent at Juilliard last week. Your life lessons and thoughts on music, how to remain engaged in the process of learning and developing melodies, will remain with the students for a lifetime. I truly enjoyed having the opportunity to hear you share your thoughts as well. Your humanity and honesty shine! It was a pleasure to get to know you if only for a brief moment.
Ron Blake
Faculty Member, The Juilliard School (Jazz Saxophone, Jazz Studies)
Current Member of the Saturday Night Live Band
The Juilliard School Website
---
Charles McPherson is an American treasure. His positive message and willingness to share so much of his experience with our students here at the University of Northern Colorado was invaluable. This, coupled with his masterful musicianship and beautiful alto saxophone sound, was inspiring to say the least.
Click for photos from the UNC January 2015 clinic.
Dr. Andrew Dahlke
Professor of Saxophone
University of Northern Colorado School of Music
---
Charles McPherson has been one of the greatest voices of jazz for over 50 years. He has performed with every major jazz artist and throughout the world to much acclaim. He is also a unique voice in the field of jazz education. As Director of Jazz Studies at New Jersey City University for the past 20 years, I have had the distinct pleasure of presenting Charles as a guest performer, lecturer and clinician at my university numerous times as well as in performance with the student big band at Lincoln Center. He treated each and every situation and student with great seriousness and respect while offering solutions that improved their performances. All of the students have walked away with positive life-long memories from their association with him.
It's unusual to find a legendary performer who is equally adept in the field of music education. My students and I have benefited from our experiences with Charles McPherson and I hope other educational institutions will avail themselves of this opportunity in the future.
Dr. Edward Joffe
Director of Jazz Studies, NJCU (1994-2014)
joffewoodwinds.com
---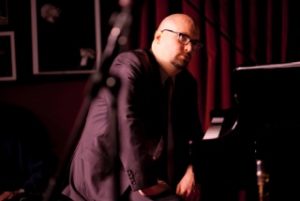 Ethan Iverson, a pianist and composer best known for his work with the jazz trio 'The Bad Plus' recently had a few lessons with Charles when on tour in San Diego. Ethan thought his lessons with Charles were 'utterly remarkable'.  The second lesson was recorded last fall.  Please check out Ethan's blog 'Do The M@th' and read a published transcript of their time together to get an idea of how the Master thinks, and what lessons are like at this level.
Ethan wanted to hear Charles on "Lover," and he stomped it off at Coltrane's fierce tempo but with a melodic purity that is closer to Bird. Lynn McPherson caught the moment on video. The complete story of Ethan's lesson with Charles here.


Ethan Iverson
Pianist and composer, 'The Bad Plus'
thebadplus.com
---
"Charles McPherson is a saxophonist, whose message should be heard by everyone. His music and experiences are evidence of dedication, perseverance, talent and a sincere love of jazz. He represents this art form at the highest level because he is a true jazz legend."
Bradford C. Leali
Associate Professor of Jazz Saxophone
University of North Texas
---
Charles has been a key member of the faculty for the UC San Diego Jazz Camp since its start in 2003, and I literally cannot conceive of the program without his very active involvement. Over these past 12 years he has been a mentor to countless musicians, both young and old, providing them with technical and creative insight and the kind of profound connection to the music that only a master performer can share. The privilege of studying and working with Charles has elevated the experience of our program for both our students and our other faculty members, and his generosity to his students continues to be an inspiration to them and to me.
Dan Atkinson
UCSD Jazz Camp
One of Charles' student ensembles from UC San Diego Jazz Camp

---
I would like to thank you for all you have done for me in the past four years. You have really been an inspiration for me and you have taught me a lot about just doing what needs to get done to be a better musician. Whenever people ask who I have studied with and I say your name, they are always in such shock that I have had the opportunity to have studied with a legend like yourself. Your music has had such a huge impact on not only my playing, but on my soul. As I leave now to the University of North Texas, I just want you to know that it wouldn't have been possible without your mentorship. Once again, Thank You Mr. McPherson. You have changed my life.
Kyle Myers—Alto Sax
Private student of Charles McPherson throughout middle and high school
---
I have been an ardent fan of Charles McPherson, the musician, since the 1970's when I was a high school student. On the over two dozen albums I own with him as a leader as well as the many recordings that I have in my collection where he has the role as a sideman, Charles McPherson is the ultimate artist.
Charles McPherson came through my home town of Denver, Colorado in October of 2013. He gave a Saturday morning master class where he spoke and answered questions for two hours. As an educator/musician, I had heard many great musicians give master classes before, but Charles operated on
a level that far surpassed all of them in every conceivable way. In short, he gave the most inspired lecture that I had ever heard. He didn't have his instrument with him that morning but I was still completely captivated by the clinic in much the same way that his music has had an effect on me for the past 40 years. His highly intellectual mind combined with his great wisdom had a profound impact on me. I was so impressed by his clinic that I couldn't help wishing that my high school students would have had the same opportunity to hear him speak. I did something that I had never done before and asked him after the clinic if he would come back to Denver in a few months and do the same thing for my students.
We worked out all of the details and in April of 2014, Charles McPherson returned to Denver and spent two full days with all of the instrumental and vocal music students at East High School. He was so articulate in expressing himself in both words and music, thereby creating an inspirational experience for all. Students could not stop talking about the two days and they were still talking about it, two months later, at the end of the year. More than a few music students shared with me that [pullquote]hearing Charles McPherson play and speak was the single most important experience that they had had in their entire school career[/pullquote].
While he was here in Denver, he enriched the lives of my students and me as well as all those that were lucky enough to hear him play. Charles McPherson is a man that has the highest degree of integrity in all areas of his life and art.
Keith Oxman
Instrumental Music Director
East High School; Denver, Colorado
---
Universities
The Juilliard School of Music, Stanford University, University of Southern California SD, Royal Academy of Music (London), Conservatory of Music (Amsterdam), University of Northern Colorado School of Music, USC Thornton School of Music, Wisconsin Conservatory of Music, University of Florida Orlando, San Diego State University, New School in NYC, New Jersey State University, Cal State University Northridge, Thelonious Monk Institute at UCLA, SOKA University, Cal State University Bakersfield, East High School Denver, San Diego School of the Creative and Performing Arts, Purchase College, University of North Texas State, Temple University, The Hartt School at University of Hartford and others.
---